How VR is changing the future of healthcare
The first VR App Store for healthcare is here!
Virtual reality (VR) is on the rise and there are endless possibilities for its implementation, one of the most exciting is in the use of healthcare. Recently, Verified Market Research published a study in which the Global Virtual Reality Healthcare Marketing is expected to grow to be 33.7 billion USD by 2027.
Examples of innovation within this market are already here. For example, SyncVR Medical recently launched the first ever VR Health App Store centralizing VR technology that addresses various healthcare issues that can be positively impacted by VR for healthcare professionals and clinicians. The implementation of VR technology in clinics and other healthcare settings has been up and coming in the past few years. Its applications range from cognitive and physical rehabilitation to pain relief and spreading disease awareness with more uses being developed daily. With their VR Health App Store, SyncVR brought these applications together by offering a range of VR apps in one place. In their Appstore healthcare professionals can browse through all of the apps or filter by clinical theme, VR goggle type, language, recommended age group and/or healthcare department(s).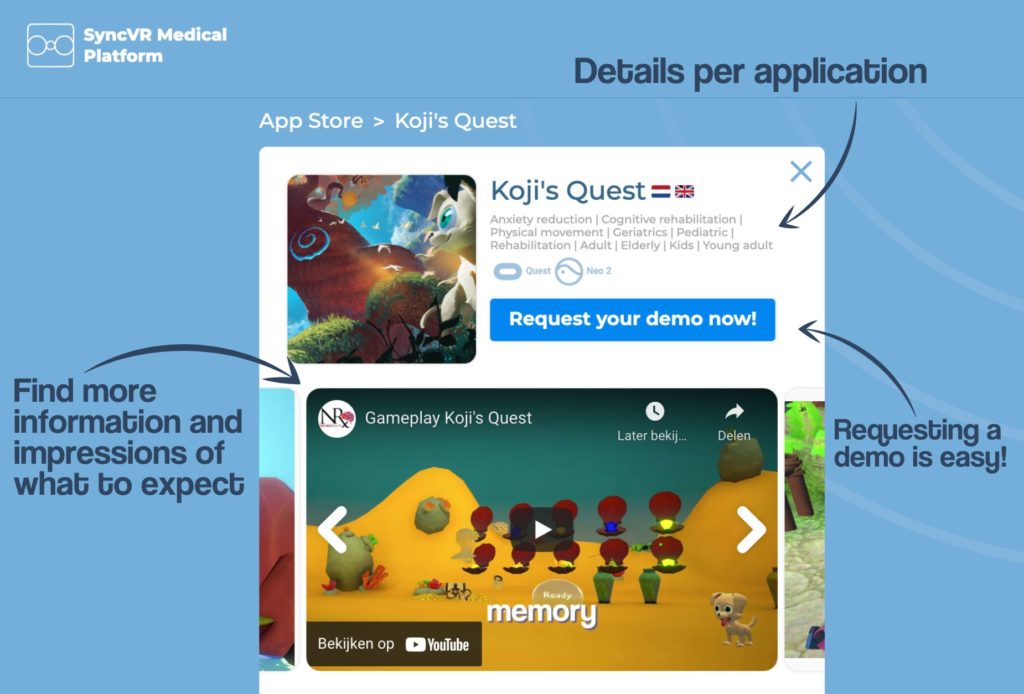 Besides the recently launched VR App Store from SyncVR Medical, there are countless examples of applications within this market. Below are just a few possibilities.
Educational applications of VR in Healthcare
It has been stated that with the use of VR technology the efficiency and effectiveness of medical training can be improved and any inconveniences are either reduced or removed completely (Ho, Wong, Chua & Chui, 2018) . Consider, for example, virtual anatomy lessons or surgery simulations. Students can study the internal organs or medical procedures in virtual settings, gaining nearly first-hand experience by means of some technological glasses. With more real life experience, VR can reduce the amount of time in class and can allow for the time in classes to be used more effectively to educate the medical professionals of the future. In addition, with surgery simulations and environments VR technology  opens up the possibilities to study and train important and complex practises in a more accessible way. Currently, the use of VR in surgery rooms is even being explored and experimented with. Next to improving the training of health professionals, VR technology can help the same professionals communicate about the meaning and implications of diseases.
Health communication and disease awareness via VR
As mentioned by Dr. Brennan Spiegel, Professor of medicine and public health and author of VRx, when a person can be immersed in the body and see (through VR) the damage that increased levels of salt has on human organs, it has been shown to increase the motivation to make positive dietary changes. In a similar manner, VR technology can increase awareness about other diseases like atherosclerosis, obesity and cancer, but also the SARS-CoV-2 virus, by giving direct and visual insight into the disease and how it impacts the body.
Besides spreading awareness about disease, health knowledge and health communication can also be increased by using VR. An app, such as Dialysis Orientation, where the patient is guided through various forms of therapies can reduce patient anxiety prior to treatment and increase self-esteem and mental well-being related to the procedures.
VR can relief anxiety, stress and pain
Along with applications prior to treatment, anxiety and stress reducing technology can save the day by creating an environment to help people calm down, meditate and wind down after a stressful day or post treatment. Stress levels have been shown to be reduced when a patient is surrounded and immersed in, among other things, interactive nature scenes where they can walk, sit down, or meditate in (Valtchanov, Barton & Ellard, 2010). Likewise, medical hypnosis techniques can be applied and combined with VR to decrease the levels of stress by the use of guided hypnosis sessions to calm both the body and mind. In recent years VR hypnotherapy has also been applied to the field of pain relief (Patterson, Jensen, Wiechman & Sharar, 2010; Montaño, Chen & Gold, 2011).
Did you know that it has been 21 years since VR was first introduced as a means of pain management? Hoffman and colleagues (2000) found that burn patients that played a videogame felt reduced amounts of pain while playing the game. A couple of years later, Hoffman and colleagues (2006) conducted a brain scan which showed significant decrease in pain in five pain related regions of the brain. This finding proved the pain reducing effects of VR technology. Since then, various pain relief VR technology have been developed, tested and applied. In addition, VR pain distraction has become widely available both in and outside of clinics. One of the recent applications of VR pain relief is by means of hypnotherapy. Research by Belgian researchers (Rousseaux et. al, 2020) has shown that for almost all patients, VR hypnotherapy is able to reduce pain.  However, since the decrease in pain was comparable to 'regular' hypnosis, the applications of hypnosis in VR is still being investigated.
Cognitive rehabilitation implications of VR
Another growing area of VR therapy that is currently under investigation is the use of VR in treating mental disorders and diseases. Previous research by researchers from Oxford university has shown that VR can help in the treatment of phobias. In 2018, Freeman and colleagues showed that people with acrophobia, read fear of heights, were able to overcome their fear by training via the use of VR. Patients received six VR sessions within fourteen days during which time they where they are guided through sessions by a virtual therapist to alter how the experience was viewed by means of cognitive therapy techniques. The study showed a decrease in fear of heights in two third of the patients. Next to this, other studies have shown promising results of VR therapy in ADHD, autism spectrum disorder (ASD) and psychosis. In the case of ADHD, VR-based cognitive remediation therapy showed to yield significantly positive results using VR. Nonetheless, the studied group did not differ in terms of the assessed behavioral categories. Currently a number of researchers are investigating the efficacy of VR therapy for both ASD and psychosis.
Turning to our own research, Koji's Quest, a serious game, is being applied in the treatment of acquired brain injuries (ABI). Due to its versatility and the possibility of personalization, Koji's Quest can also be used for those simply interested in keeping their brain fit and/or enhancing their emotional wellbeing. Koji's Quest immerses the patient in an exciting environment where they are challenged by various games and exercises in a number of cognitive domains including memory, attention, executive functioning, visuospatial skills, and numerical skills in a fun and engaging way.
VR increases healthcare accessibility
The use of VR technology in healthcare increases accessibility to healthcare with only a VR goggle and the appropriate VR application for treatment. The ease of accessibility could shift care delivery from a medical facility to the safety and security of one's own home. With the possibility of medical care in a familiar environment the quality of life of patients can also be increased (Wakefield et. al, 2008; Larson, Rosen & Wilson, 2020). As VR treatment could lead to more efficiency and effectiveness for medical practitioners, the number of  people that can be treated can increase, thus expanding the reach and availability of medical care for all.
Additionally, as stated by Dr. Walter Greenleaf VR is able to address and improve even the most complicated problems in healthcare due to the realistic and motivating simulations, ranging from post-traumatic stress disorder and addiction to mood disorders such as anxiety. Apart from this, with the rising cost of healthcare, VR technology can, with time, provide state of the art medical care at a lower cost. All with all, VR technology appears to have promising effects on the accessibility and implications of healthcare.
In this day and age there are a lot of developments in the VR industry to make healthcare more accessible and fun. In this article, only a handful of VR applications in healthcare and disease were covered. What new uses of VR in healthcare can you imagine in the coming years?
If you own an Oculus Quest or Pico Neo yourself, or if you are interested in implementing Koji's Quest in your healthcare practice, have a look at Koji's Quest in the VR App Store here: Koji's Quest.
References
Emmelkamp, P. M. G., & Meyerbröker, K. (2021). Virtual Reality Therapy in Mental Health. Annual Review of Clinical Psychology, 17(1), 1–25. https://doi.org/10.1146/annurev-clinpsy-081219-115923
Ho, N., Wong, P. M., Chua, M., & Chui, C. K. (2018). Virtual reality training for assembly of hybrid medical devices. Multimedia Tools and Applications, 77(23), 30651-30682.
Valtchanov, D., Barton, K. R., & Ellard, C. (2010). Restorative effects of virtual nature settings. Cyberpsychology, Behavior, and Social Networking, 13(5), 503-512.
Patterson, D. R., Jensen, M. P., Wiechman, S. A., & Sharar, S. R. (2010). Virtual reality hypnosis for pain associated with recovery from physical trauma. Intl. Journal of Clinical and Experimental Hypnosis, 58(3), 288-300.
Li, A., Montaño, Z., Chen, V. J., & Gold, J. I. (2011). Virtual reality and pain management: current trends and future directions. Pain management, 1(2), 147-157.
Hoffman, H. G., Doctor, J. N., Patterson, D. R., Carrougher, G. J., & Furness, T. A. (2000). Virtual reality as an adjunctive pain control during burn wound care in adolescent patients. Pain, 85(1), 305–309. doi:10.1016/s0304-3959(99)00275-4
Hoffman, H. G., Richards, T. L., Bills, A. R., Van Oostrom, T., Magula, J., Seibel, E. J., & Sharar, S. R. (2006). Using fMRI to Study the Neural Correlates of Virtual Reality Analgesia. CNS Spectrums, 11(01), 45–51. doi:10.1017/s1092852900024202
Rousseaux, F. M., Dardenne, N., Massion, P. B., Ledoux, D., Faymonville, M. E., Nyssen, A. S., & Vanhaudenhuyse, A. (2020). Virtual Reality Hypnosis for Anxiety and Pain Management in Intensive Care Units. A Prospective Randomized Trial Among Cardiac Surgery Patients.
Freeman, D., Haselton, P., Freeman, J., Spanlang, B., Kishore, S., Albery, E., … & Nickless, A. (2018). Automated psychological therapy using immersive virtual reality for treatment of fear of heights: a single-blind, parallel-group, randomised controlled trial. The Lancet Psychiatry, 5(8), 625-632.
Wakefield, B. J., Ward, M. M., Holman, J. E., Ray, A., Scherubel, M., Burns, T. L., … Rosenthal, G. E. (2008). Evaluation of Home Telehealth Following Hospitalization for Heart Failure: A Randomized Trial. Telemedicine and e-Health, 14(8), 753–761. doi:10.1089/tmj.2007.0131
Larson, J. L., Rosen, A. B., & Wilson, F. A. (2020). The effect of telehealth interventions on quality of life of cancer survivors: a systematic review and meta-analysis. Health informatics journal, 26(2), 1060-1078.
cedars-sinai.org/blog/virtual-reality-future-healthcare.html
neurosciencenews.com/virtual-reality-height-fear-17733/
visualise.com/virtual-reality/virtual-reality-healthcare